Dr Arifa Khan
MBBS, FRACGP, FRANZCOG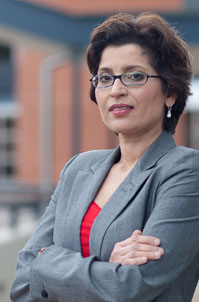 Dr Arifa Khan is an experienced and highly sought after female Obstetrician & Gynaecologist who works at the Sydney Adventist Hospital, Wahroonga and Norwest Private Hospital, Bella Vista. In addition, she is an accredited practitioner at Genea (formerly Sydney IVF) and a Visiting Medical Officer at Westmead Public Hospital.
After graduating with a degree in medicine and surgery in 1989, she started her training at Westmead Public Hospital. Following her internship and residency, she joined the Family Physician Training Program and started work as a family physician in Sydney's Northern Suburbs. She gained her fellowship with the Royal Australian College of General Practitioners (RACGP) in 1998 and although she found work as a General Practitioner very rewarding, she found women's health and shared care for pregnant mothers most pleasurable and decided to return to the training program through the Royal Australian and New Zealand College of Obstetricians and Gynaecologists (RANZCOG).
Arifa was awarded a travelling scholarship in 2003, which enabled her to train in minimally invasive surgery techniques at world-renowned centres in France and Italy, following which she spent a year working in the United Kingdom. This also provided her with an opportunity to present research at international conferences such as the conference for
The International Society for Gynaecologic Endoscopy
. All of this experience and expertise collected over this time she now utilises in her own private practice.
From a personal perspective, Arifa is both a dedicated wife and loving mother of two boys. This, combined with almost 15 years experience in women's healthcare and fertility management, allows Arifa to be able to offer comprehensive and compassionate care. The main aim of her private practice is to provide personalised care of the highest standard to women of all ages and needs.
First Appointment Checklists
The SAN Clinic
Suite 401, 185 Fox Valley Road
Wahroonga NSW 2076

Norwest Specialist Medical Centre
Suite 108, 9 Norbrik Drive
Bella Vista NSW 2153